[av_textblock size=" font_color=" color=" av-medium-font-size=" av-small-font-size=" av-mini-font-size=" av_uid='av-4l0ajor' id=" custom_class=" admin_preview_bg="]
Irish Dancing – Good fun, good vibes, good times
Now with classes for toddlers!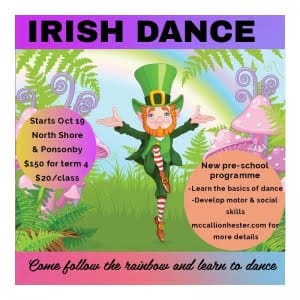 Irish culture is famous all over the world, probably because of its deep roots, strong traditions and the huge diaspora connecting to every corner of the world. Irish people love to have fun, make friends and sure know how to have a good time.
In 1994 the Irish dancing world was turned upside down when Riverdance performed on stage during the interval of the European song contest in Dublin with a modern form of Irish dance. The production was thrilling, fast paced and totally new to anything the world had seen before. A new era in Irish dancing had begun as Riverdance took the world by storm! The production was the first of its kind and has been performing worldwide since then.
Maire McCallion from Donegal, Ireland was first introduced to dancing at the age of 3 and trained at the world's most acclaimed dance school, The McConomy Academy in Derry, who have produced a record number of world champions under An Coimisiún le Rincí Gaelacha. Maire was accepted into Riverdance at the age of 16 going on to tour the world performing at some of the largest arenas and theatres in Asia, Europe and America.
Sean Hester from Manchester has been dancing since the age of 11 and has performed all over the world with various dance productions including Michael Flatley's very own Lord of the Dance.
Together we are McCallion & Hester Irish Dance Academy. Our aim is simple, whether you've been dancing for years or are a complete beginner, we encourage everyone to take up the sport and have fun with it. We are a modern fresh approach to traditional Irish dancing and the most important thing for us is that you enjoy the experience and leave with a smile.
We offer a variety of classes for Adults and Kids- with a brand new Kids class starting in Ponsonby in March 19.
For further information, see www.mccallionhester.com, find us on Facebook or Instagram at Mc Callion & Hester Irish dance academy.
[/av_textblock] [av_slideshow size='extra_large' animation='slide' conditional_play=" autoplay='false' interval='5′ control_layout='av-control-default' av-small-hide='aviaTBav-small-hide' av-mini-hide='aviaTBav-mini-hide' av_uid='av-k01oktbu' custom_class="] [av_slide id='11080′ slide_type=" video='https://' mobile_image=" fallback_link='http://' video_ratio='16:9′ video_controls=" video_mute=" video_loop=" video_autoplay=" title=" link_apply=" link=" link_target=" av-medium-font-size-title=" av-small-font-size-title=" av-mini-font-size-title=" av-medium-font-size=" av-small-font-size=" av-mini-font-size=" av_uid='av-3tbghjf'][/av_slide] [av_slide id='11119′ slide_type=" video='https://' mobile_image=" fallback_link='http://' video_ratio='16:9′ video_controls=" video_mute=" video_loop=" video_autoplay=" title=" link_apply=" link=" link_target=" av-medium-font-size-title=" av-small-font-size-title=" av-mini-font-size-title=" av-medium-font-size=" av-small-font-size=" av-mini-font-size=" av_uid='av-3kihb2j'][/av_slide] [av_slide id='11120′ slide_type=" video='https://' mobile_image=" fallback_link='http://' video_ratio='16:9′ video_controls=" video_mute=" video_loop=" video_autoplay=" title=" link_apply=" link=" link_target=" av-medium-font-size-title=" av-small-font-size-title=" av-mini-font-size-title=" av-medium-font-size=" av-small-font-size=" av-mini-font-size=" av_uid='av-33m4l57′][/av_slide] [av_slide id='11121′ slide_type=" video='https://' mobile_image=" fallback_link='http://' video_ratio='16:9′ video_controls=" video_mute=" video_loop=" video_autoplay=" title=" link_apply=" link=" link_target=" av-medium-font-size-title=" av-small-font-size-title=" av-mini-font-size-title=" av-medium-font-size=" av-small-font-size=" av-mini-font-size=" av_uid='av-v9hu3′][/av_slide] [av_slide id='11122′ slide_type=" video='https://' mobile_image=" fallback_link='http://' video_ratio='16:9′ video_controls=" video_mute=" video_loop=" video_autoplay=" title=" link_apply=" link=" link_target=" av-medium-font-size-title=" av-small-font-size-title=" av-mini-font-size-title=" av-medium-font-size=" av-small-font-size=" av-mini-font-size=" av_uid='av-290bt1n'][/av_slide] [av_slide id='11123′ slide_type=" video='https://' mobile_image=" fallback_link='http://' video_ratio='16:9′ video_controls=" video_mute=" video_loop=" video_autoplay=" title=" link_apply=" link=" link_target=" av-medium-font-size-title=" av-small-font-size-title=" av-mini-font-size-title=" av-medium-font-size=" av-small-font-size=" av-mini-font-size=" av_uid='av-1l6t6gb'][/av_slide] [av_slide id='11124′ slide_type=" video='https://' mobile_image=" fallback_link='http://' video_ratio='16:9′ video_controls=" video_mute=" video_loop=" video_autoplay=" title=" link_apply=" link=" link_target=" av-medium-font-size-title=" av-small-font-size-title=" av-mini-font-size-title=" av-medium-font-size=" av-small-font-size=" av-mini-font-size=" av_uid='av-3wkoi3′][/av_slide] [av_slide id='11125′ slide_type=" video='https://' mobile_image=" fallback_link='http://' video_ratio='16:9′ video_controls=" video_mute=" video_loop=" video_autoplay=" title=" link_apply=" link=" link_target=" av-medium-font-size-title=" av-small-font-size-title=" av-mini-font-size-title=" av-medium-font-size=" av-small-font-size=" av-mini-font-size=" av_uid='av-2urnl7′][/av_slide] [/av_slideshow]